Introducing… Riello UPS Systems
Riello UPS is a manufacturer of uninterruptible power supplies (UPS) based in Verona, Italy. With R&D focus being exclusively on producing UPS systems, Riello UPS has the flexibility and agility to design innovative power solutions to meet specific end-user requirements. And with a global customer base, Riello UPS has proved to be a strong player in the power quality industry. RIELLO UPS' mission is to provide solutions that guarantee power continuity, quality, and sustainability.
Riello offers a wide range of single and three-phase Double Conversion Online UPS units available in power ranges from 1kVA to 500VA, both single and three phase.
Riello UPS is a wholly owned subsidiary of Riello Elettronica, a holding group of companies that operate in energy technology. Established in 1986, Riello has over 35 years of experience in the UPS industry.
In the Riello UPS product lineup, there are three main systems they offer:
This high-density UPS system is designed to power critical loads in a small IT space, such as servers, storage systems, communication, industrial or medical UPS applications. The Riello Sentinel RT can be installed as a tower or rack mounted UPS, with a rotating front mimic display that can be turned 90 degrees to suit the installation. With a unity power factor, more available kW means more power in a small, compact footprint.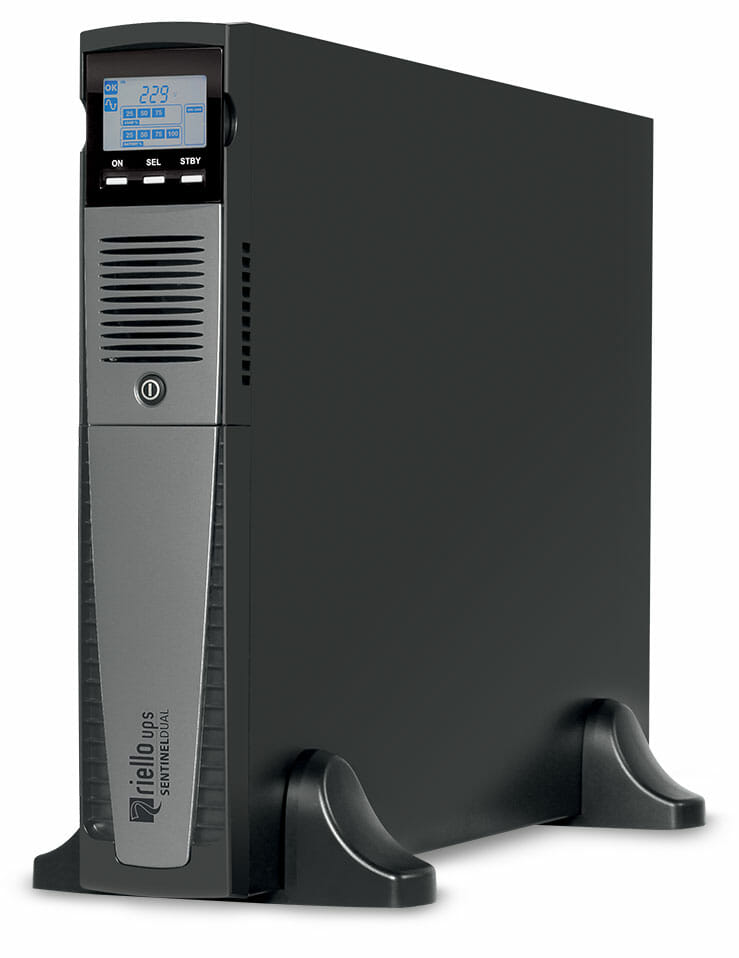 The Guard Tower is the perfect solution for protecting critical systems such as safety devices, communications equipment and IT systems that require maximum power reliability.
This unit is designed and built using state-of-the-art technology and components to provide maximum protection to the powered loads with no impact on downstream systems and optimized energy savings. The load is powered continuously by the inverter which supplies a sinusoidal voltage, filtered and stabilized in terms of form and frequency.
The rapid evolution of IT technologies, augmented focus on environmental matters and complexity of critical applications are demanding more flexible, efficient, secure and interconnected power protection solutions.
The Sentryum 10-60 kVA @ 208 V, 60 Hz offers the best combination of power availability, energy efficiency and global performance ensuring installation and running cost savings. It is the very latest Riello UPS development resulting in a third-generation transformer-free UPS, originally introduced into the market over twenty years ago. The Sentryum series is a transformer-free UPS available in 10-20-30-40-50-60 kVA, 208V 3PH. Sentryum is designed and built using state-of-the-art technology and components. It applies the advanced technologies such as DSP (Digital Signal Processor), dual core microprocessor, three level inverter circuits and resonant control to provide maximum protection to the critical loads with no impact on downstream systems, whilst maintaining optimised energy savings. With a unique control system, it makes it possible to reduce the inverter output harmonic voltage distortion and provide rapid response to all load variations, ensuring an outstanding sinewave form during all conditions.
IT managers, facility managers, and CTOs are under increasing pressure to reduce downtime and assure that their critical loads are supplied with uninterrupted and high-quality power. With this increasingly stringent requirement, Riello UPS has invested in power solutions that meet strict demands; a commitment resulting in the launch of the Master HP UL range. More than just an innovative and technologically advanced UPS, it is a leap into the future of three-phase technology. With its double conversion ONLINE technology based entirely on IGBT and digital signal processors (DSP), the Master HP UL range ensures maximum critical load protection, with VFI SS 111 classification (Voltage and Frequency Independent) in accordance with IEC EN 62040-3. This range is designed using a new configuration that includes an IGBT sinusoidal input rectifier. Unique in its design, double conversion technology with galvanic isolated output guarantees a quality power supply that is completely protected from all electrical anomalies at the input. The Riello Master HP Series UPS provides the flexibility and power, at an affordable price to protect critical data centers, healthcare and manufacturing processes from severe power quality issues.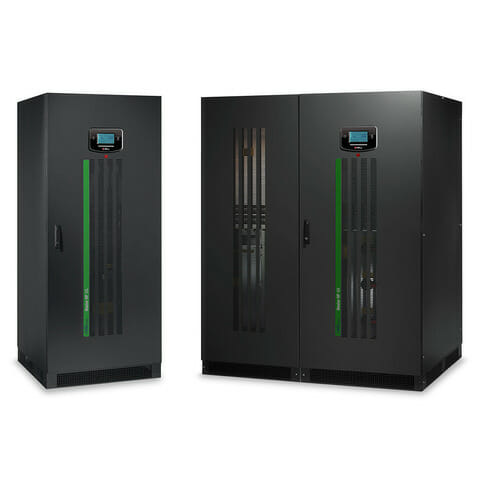 Is a Riello UPS system right for your installation? Talk to one of our team members today to learn more about the Riello UPS family to see if it is a good fit for your facility.
Contact Us
General questions about new or existing service.
Published on Nov 04 2022
Last Updated on Feb 03 2023