An Overview of UPS Battery Types
Batteries: The Heart of Your UPS System
If you think of your UPS as the "nervous system" of your back-up power management set-up, the batteries of your UPS are the "heart" of that system. And there are several types of batteries that can make up the heart of that system.
But all batteries (no matter which ones you choose) will decrease in ability to store and deliver power over time. Even if you follow all guidelines for their storage, maintenance and usage, UPS batteries will need to be replaced on a schedule to optimize their performance.
There are three main types of UPS batteries — Valve Regulated Lead Acid (VRLA) batteries, Flooded Cell (VLA) batteries and Lithium Ion batteries. Each type of battery has preferred uses in specific types of environments.
---
Interested in learning more about the different types of UPS Batteries, their uses, and the advantages and disadvantages of each kind?
Make sure to subscribe to our e-newsletter and bookmark our blog. 
---
Valve Regulated Lead Acid (VRLA)

The term "valve regulated" relates to the way gas is released from the battery. If the gas pressure becomes too great in the battery, a valve will vent when the gas reaches a certain pressure.
Quick Facts
Most common battery found in UPS units today

Cost typically less up-front than Flooded Cell batteries

Life span of 5 years

Less maintenance required compared to Flooded Cell batteries

Stored at room temperature in a dry, climate-controlled room, and installed facing upright

Water cannot be added (avoid factors that increase evaporation, like ambient temperature and heart from charging current. These will reduce battery life.)
Flooded, or Wet Cell Batteries
Quick Facts:
Higher upfront costs

Very reliable — typically last for 20 years

Most typical failure is a short circuit (usually doesn't happen before the 10-year mark)

Composed of thick, lead-based plates flooded with electrolyte acid

More safety measures are needed (need their own separate battery room due to potential chemical hazards)

Have become less popular in recent years due to capital costs and hazards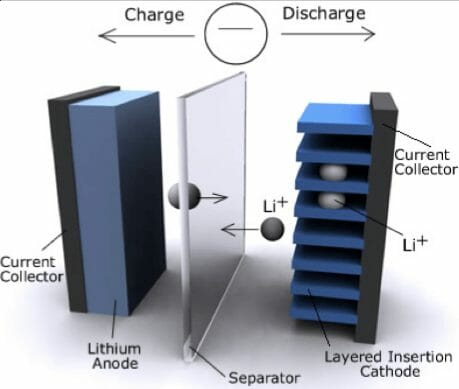 Lithium Ion Batteries
Lithium Ion battery design has recently transformed due to their use in electric vehicles and, of course, UPS storage. 
Quick Facts
Expensive compared to VRLA or flooded cell batteries

Cost ~ 40% more to manufacture than Nickel cadmium cells

Low operational expense costs

Less frequent replacement than other types of batteries

Ability to operate at higher ambient temperatures

Small, lightweight

High charge and discharge times, as well as high recharge times — making them attractive in non-traditional UPS applications, such as grid sharing and industrial process control support

Built-in battery management
Battery Management
With battery management, you receive updates on your battery's current charge, voltage and cell voltage balance. It also adjusts for issues related to temperature by disconnecting single batteries or strings if temperatures rise above safe levels. The battery management can also send alarms on the UPS and notify the battery cabinet monitor. 
It is important to understand your UPS battery options, and how to manage them, just as well as your options for the machine itself. Contact QPS today to speak with our experts about how best to manage your UPS battery life and UPS battery replacement.