City of Milwaukee
City of Milwaukee Lighting Inverters Case Study
Features
8kVA & 6kVA Myers Lighting Inverter
Parking ramp structure
Sub-basement location
Team
Brian Loken, CPQ
Bill Jackson, Account Executive
Location
City of Milwaukee
Milwaukee, Wisconsin
New Lighting Inverters Installed In Difficult Locations
Deep in a sub-basement, the City of Milwaukee had two lighting inverters that supplied emergency lighting to a parking structure. The units had failed and needed to be replaced.
The problem – the rooms were tight, the equipment was large and sat on a 6" raised concrete pads, and the equipment needed to be brought in off the street and moved into the sub-basement. QPS was hired to remove the old gear, install, and start up the new units.
After a complete and thorough walkthrough, QPS was able to advise the client with a plan of action and timeframe. The QPS team completed the job ahead of schedule and with no disruptions to city operation! Upon successful startup, testing, and customer training, QPS recycled the old units completely – sending nothing to the landfill.
The client was overjoyed that we completed our work when promised and with no issues. She believes our advance planning was the reason that everything went so well.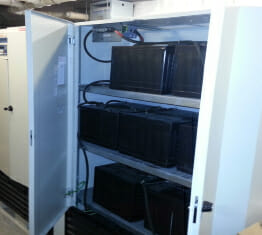 QPS thinks of everything, so there are no surprises. I would highly recommend QPS

Bambi B.

Milwaukee, WI