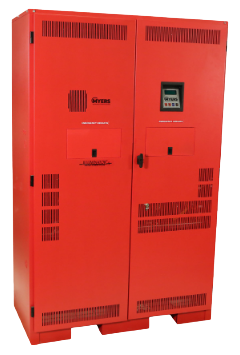 Myers Illuminator IE Inverter System
The Myers EPS Illuminator IE is a single phase inverter system for emergency lighting designed for LED lighting loads. A single cabinet design capable of handling up to 16.7kVA units in a small footprint The Myers Illuminator IE is compatible with LED and Other Non-HID Lighting Loads. The Illuminated IE UL924 Inverter can also be customized with a variety of output configurations, to allow for a streamlined installation in most facilities.
Need a maintenance inspection or a battery replacement on your Myers Illuminator IE inverter system?
---
Technical Specs
Power Rating: 1.5kVA/KW to 16.7kVA/KW
Output Load Power Factor .5 Lag to .5 Lead
90 Minute Runtime Standard; other run-times available upon request
Features
98% efficient
PWM/IGBT Technology
Micro-Processor Control
Automatic Event, Test and Alarm Log
RS232 Communications Port
Need a quote for an Myers Illuminator IE Inverter System?