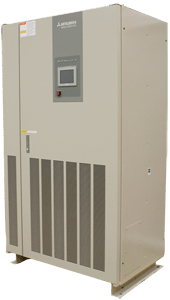 Mitsubishi 9800
Superior reliability and performance with this efficient and parallel redundant capable UPS system.  With the ability to parallel up to (8) the system offers complete redundancy.  Modular scalability offers flexibility with cost savings and a reduced footprint.  The three phase, on-line double conversion UPS system also features IGBT technology that provides many benefits such as large power capabilities and high speed switching.
Need a maintenance inspection or a battery replacement on your Mitsubishi 9800? 
---
Technical Specs
Power Rating: 100 – 750kVA
Output Power Factor: .8 for 100 – 225kVA; .9 for 300 – 750kVA
Voltage: 480VAC Input; 480Y/277VAC or 600Y/346VAC Output
On-line double conversion topology
Features
IGBT converter & inverter
Available for parallel redundant & capacity applications
Single or Multi module system applications
Monitoring system options
Options
Additional modules for parallel redundant & capacity applications (up to 4 modules)
Need a quote for an Mitsubishi 9800?