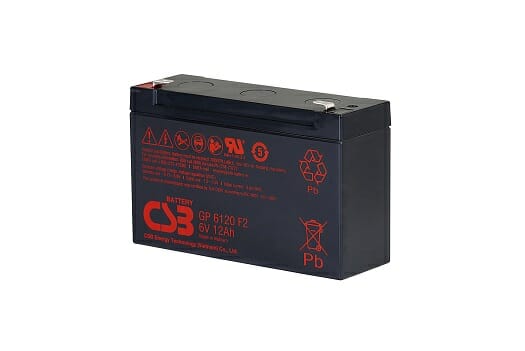 CSB GP 6120
The CSB GP 6120 battery is a part of the CSB GP range of sealed lead acid batteries. CSB incorporates specific design features for reliability and efficiency. For instance, one of its key features being that it is flame retardant (UL94-V0). In addition, for high performance the GP 6120 has high conductivity faston tab 187/250 terminals. This battery is made for all general applications such as telecommunications, UPS (Uninterrupted Power Supply), Solar, Wind Power, emergency lighting, security and many other.
Need your CSB GP 6120 UPS battery replaced?
---
Technical Specs
Nominal Voltage: 6
Nominal Ah – 20hr rate to 1.75VPC at 25°C: 12
Dimensions (inches): 5.94 x 1.97 x 3.71
Features
General Purpose Battery
Rechargeable
Absorbed Glass Mat Valve Regulated Lead Acid (AGM VRLA) technology
Documentation
Need a quote for a replacement?