UPS in Alarm: What Happens Next.
We ran an article on "What Your UPS Alarm is trying to Tell You" to help explain some of the basic alarms you might experience. In this article, we will go into more depth about how your service provider should respond, triage, and resolve your issue, from when you first contact them to completion. We will also discuss the importance of understanding the provisions your provider makes for response time and resources. This gives you an expectation of what happens "behind the scenes," so you better understand the process involved in supporting your UPS.

When your UPS system is in alarm, we understand the urgency behind a response and we work quickly to get your site back to normal state. It is important to first determine what provisions your provider makes for response times in your UPS service contract. At Quality Power Solutions, our goal is to connect you with a live technician within 15 minutes of your call. This means a tech services engineer or manager will follow-up with you quickly to complete a phone triage of your critical UPS situation. Once the issue is identified, a technician may need to be dispatched to get your system back into normal operating status. Some sites may require on-site response times in accordance with the terms of your agreement. This could be within 4 hours, 8 hours, next business day, or a specialized response time agreed on by both parties.
When contacting your UPS provider, make sure to tell them about important codes you see on your display When you first contact QPS with a need for UPS emergency support, the first person you speak with will always ask for basic identifying data from you, so that your issue can be referred to and tracked. This includes: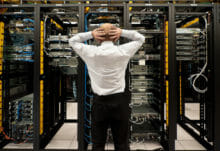 Contact Information
Company name
What UPS system is having issues
Make of UPS/model of UPS/serial number of UPS
Is someone available to meet our technician on site?
The client's call and this information are immediately passed to a member of the dispatch team, who will do triage work regarding the situation. It is the dispatcher's job to allocate resources for the clients' issue, and also match those resources to the scope of work involved. The dispatcher will determine:
The current state of the client's UPS unit. Is it in bypass, shutdown, online, or unknown

?

The nature of the client emergency (utility issue, unplanned outage, a result of current work being done)
If there are UPS alarms, what type are they? (

Green=good

. Amber=Warning.

Red=Bad.

)
Are there any codes or conditions reports available? These can help the dispatcher diagnose the issue. Codes may be "bad battery module," or "bypass out of sync."
Is there SNMP data available? Event logs or meter readings can reveal the sequence of events related to the UPS issue, and provide important information for the dispatcher. For example, the event log may state "UPS went on battery," "UPS on utility," or "UPS recorded inverter failure."
Is there anyone in front of the UPS that can give us information?
Another provision that most providers note is if they stock extra parts for your unit. Some providers do this as a matter of standard policy; others will include it as part of your UPS service agreement, based on the quantity and amount of systems the client has under agreement. QPS stocks extra parts for many types of units as part of our standard policies. QPS also offers customers the ability to purchase and keep parts on-site, in case they are discontinued at some point. These often come as part of a parts kit that is sold to the client.
Once this information is determined, the dispatcher can put the client in touch with a services engineer or manager. The service engineer will first try to provide support to get the UPS to a safe state while the client is on the phone. If needed, the technician will then go on-site to the client for a UPS emergency support call to inspect the unit. Technicians always try to bring needed parts to the client site but can order parts if there is an unusual situation.
We understand the process behind supporting your UPS equipment, and we want you to be informed. For more information about our UPS service contracts and support, please contact us. Let us help you avoid catastrophic downtime.
Published on Feb 04 2019
Last Updated on Jan 27 2023